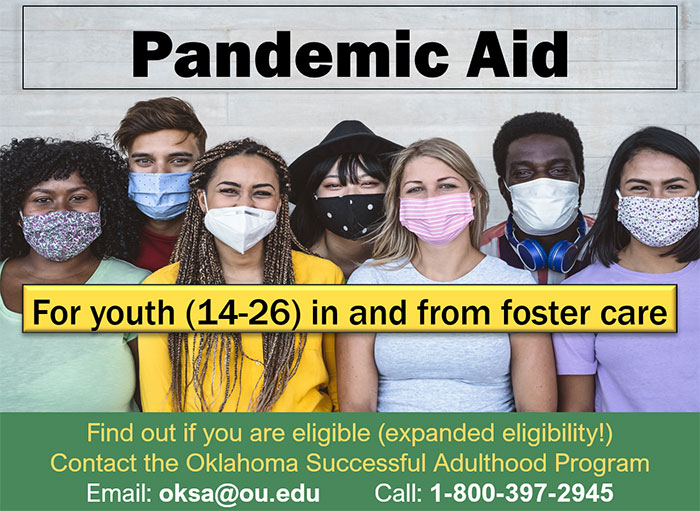 Why is OKSA sending gift cards?
The U.S. federal government passed pandemic legislation in 2021 to give funds to eligible young adults with lived experience in foster care.
When were the gift cards distributed?
OKSA eligible youth were sent Visa gift cards in December 2021.
Who was eligible to receive a gift card?
Young people who were in DHS or tribal custody, between the ages of 14-18, and who were in and out-of-home placement as of 9/30/2021. Young adults who were between the ages of 18-26 as of 9/30/21, and who exited the foster care system after the age of 16.
What if I didn't receive a gift card, but think I was eligible?
Contact OKSA at oksa@ou.edu, including your name, date of birth, and current mailing address and we will check to see if your eligible!
Who is eligible to receive OKSA extended services to 23?
Young people who were in DHS or tribal custody, and in an out-of-home placement on their 16th birthday, and who are currently between the ages of 16 and 23. Eligibility for individual services may vary.
This increase in funding is temporary and will only be available until September 30th, 2022.
Services Include Assistance for:
Education tuition and supplies
Housing and Utility Deposits and Payments
Transportation
Laptops and Phones
To find out if you are eligible and access services, contact OKSA:
email: oksa@ou.edu • Call 1-800-397-2945