Payne/Noble Counties Support Network Group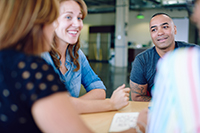 Next meeting: February 3, 2020
World Harvest Church
1718 W. Lakeview Road
Stillwater, OK 74075
Meets on the first Monday of the month from 6:00 p.m. - 7:45 p.m.
February Presentation: Resource Parent Roundtable
Come and get to know your new group facilitator, Shawna Swindell! She'll help facilitate a discussion with the group about issues that are important to YOU! Do you have a situation you need some guidance on? Maybe you're having trouble explaining foster care to your extended family. Come and share and learn from each other. You won't want to miss it!
Training Credit
Parents in attendance will earn 2 hours of in-service training credit toward your annual 12-hour requirement. Come connect and learn with other kinship, foster, and adoptive families in Payne, Noble, and surrounding counties.
Child Care
Child care is available with a reservation. Please RSVP to your resource worker by noon on Wednesday, January 29.
Food
A light meal will also be provided, so please RSVP by the date above so we can prepare for you.
For more information or support, contact Shawna Swindell at shawna.swindell@yahoo.com.
Accommodations on the basis of disability are available by contacting Danielle Harbinger at (918) 660-3700 as soon as possible.