Payne/Noble Counties Support Network Group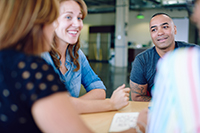 Next meeting: October 7, 2019
World Harvest Church
1718 W. Lakeview Road
Stillwater, OK 74075
Meets on the first Monday of the month from 6:00 p.m. - 7:45 p.m.
August Presentation: Basic Rights when Navigating the Education System
Melanie Berry with the Oklahoma Parent Center will provide information about parents rights r egarding working with schools to ensure the needs of the children in their care are being met. She will also share an overview of other services offered by the Center.
Training Credit
Parents in attendance will earn 2 hours of in service training credit toward your annual 12 hour requirement. Come connect and learn with other kinship, foster, and adoptive families in Payne, Noble, and surrounding counties.
Child Care
Child care is available with a reservation. Please RSVP to your resource worker by noon on Wednesday July 31.
Food
A light meal will also be provided, so please RSVP by the date above so we can prepare for you.
For more information or support, contact Jennifer Price at jlprice@ou.edu.